What to know before you go — 5 tips for MBA (and non-MBA) networking events
Today is the big day — we get to see your shining happy faces in person, or your tired haggard GMAT exhausted faces…either way we get to meet you!
If this is your one millionth MBA event or your first, we have a few tips and tricks for how to make the most of this event.
#1 Set an intention.


Are you going to meet other MBA hopefuls, do you want to connect with an alum, learn more about the fin tech program, figure out if you want an MBA or go backpacking for a year?!? Know why you're going, and let that guide you.If you are going to meet peers that are on this MBA journey too, awesome…if not, then don't get hemmed up in the corner talking bitcoin brah. If you want to meet someone from the adcomm that doesn't mean that you have to do the Heisman on the alum from your dream school. Consider asking them about their application process, whether they spoke a majority of the time to alums or admissions, and ask them if you can follow up for a referral (this is where you bust out your handy dandy notebook or grab their business card… read below).
#2 Bring a little note pad to get someone's contact info so you can slide in their DMs.


Here's a fun fact, when you hand someone your resume or business card, it will go unnoticed a majority of the time. Instead, have a brief conversation, make a personal connection, and then email them later dropping that tidbit you discussed, and maybe follow up by asking for an informational phone chat or coffee (because we all love coffee, and yes, you should treat). Trying to give your life story is asking to have your MBA odds handicapped *side eye emoji for days*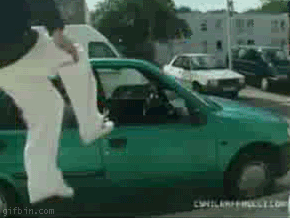 #3 Have a question in mind.


If you have the opportunity to ask a question during a panel discussion, ask away. And I'm not talking about one of those "I have two questions, one of which is a personal anecdote to show how smart I am, before I ask something I could have looked up online" questions. Also, don't ask some wildly personal question like, "how much money do you make now?" Instead, put your Lewis Howes hat on and ask a high value question that could resonate with the room and move the discussion forward.
#4 Put your best foot forward.


This isn't the time to put your best Calabasas Cool outfit to work, it's also not the time to wear the saddest black suit you own. Check out Pinterest for something that shows your personality and is also business forward. Alums, ad comm, whomever, won't remember your outfit if you come as yourself, they'll just remember YOU.
#5 Have fun!


Seriously, I can give you all the tips and tricks you can handle, but this is the most important one. MBA networking events aren't life or death. You don't have to feel like this is your only chance to make a connection with someone. If you make the event meaningful or enjoyable, have a professionally LIT time, other people will want to continue the conversation. But if you panic and treat the event like Saw: MBA Edition (you have 2 hours to make an impression or you'll need to saw off your arm to get into Stanford), people will run from you like you're on fire. Have a good time, meet some new people, enjoy yourself!
Can't wait to meet you,
thelighthouse Team
Written by MacKenzie Green